SOUTH AFRICA
Red ivory safaris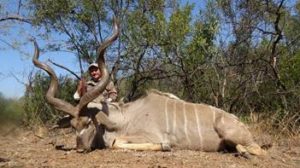 Airport: Johannesburg or Kimberley. Confirm the airport before booking your hunt, hunts took place in different areas of Africa.
Hunting area:  Red Ivory Safaris & Safari Lodges hunt privately owned hunting areas and exclusive government released lands. This ensures the security of your hunt from unwanted distractions.
We are firm believers that the trophy hunting industry is a numbers game. Clients want and expect to see many examples of the many species available which increases your chance to obtain an exceptional trophy. We have vast unfenced areas and simply put – don't hunt single trophies out of small fenced enclosures and that over alfalfa. You will have the chance to hunt your trophy out of a healthy population of said species.
You are the hunter and you will hunt the quarry, even if it's wounded. Our PH's will not be standing ready or automatically firing backup shots unless you require help or are in a life threatening situation.
Concessions: Red Ivory Safaris wants to provide the best possible environment for your hunt and so we have available to us several "concessions." You will find on our offer (on request) photos that reflect our concessions and the conditions there off.
The Southern Africa countries which host our concession are among the few remaining on the continent of Africa where you as our client can experience a safari, complete with accommodation and other amenities. We hunts in several regions, areas of various terrains. The concessions are either privately owned or reserved exclusively for Red Ivory Safaris to offer our clients these areas. Red Ivory Safaris strive in the fact that we only acquire large/vast hunting areas that is exclusively book by one group at a time.
All these concessions had been hunted by Red Ivory Safaris before, and we are well familiar with the areas. Please note that we offer over 60 species for hunting, all species we offer might not be found in/on one hunting area, the main reason for this is that different species roam different locations and require different habitat by nature.
Please note that most of our hunting areas are malaria free. If other wise we will inform you as to make and take the necessary precautions. Remember to pack the following among your other stuff. Mosquito repellent, sun block SPF 30-40, lip balm, 2 x pairs of hunting boots (well worn), hand cloves (shooting), cartridge belt or holster, camera with extra batteries.
Red Ivory Safaris noted and understand the equality in both age and gender. All over the world there is more focus on today's women hunter and the media just reflect these.
It is important for outfitters to understand the basic differences in just physical makeup as it pertains to the use of either a rifle or bow. Just because a lady has applied for a safari there should be no difference in the approach. Red Ivory Safaris will take the lady hunter to the same rifle or bow range and have them make sure they are sighted in and are able to handle the necessary power to bring home her intended trophies.
Most women hunters know their abilities and come on the safari with experience understanding of what trophy they want to take. Using either rifle or bow, you need to get all information needed on your species you want to hunt. All the rules are set out in hunting, so whether your quest is for plains game or dangerous game, make sure you got the right equipment to take your intended trophies home, and be a proud huntress with respect of what you accomplish.
If so required we have women professional hunters that can assist you with your hunt. Most women hunters with Red Ivory Safaris accompany their husband on their safari. Most of our camps are family friendly and you are more than welcome to bring your children with.
Accomodations: very good quality. Diferent lodges.
Hunting packages: (for example) Please, contact us for more informations!
Buffalo reduction:
10 days – 9 nights- 8 hunting days
 1 hunter
 1 non hunter (wife in the same room)
1 buffalo, less than 35″ spread old dagga boy, 8 years plus (maybe one broken tip, hard boss, old bull
 1 sable bull less than 35″, old bull, 8 years old
 2X 1  hunt
Reduction /Culling hunt:
 5 days – 4 nights- 3 hunting days
 1 hunter
 5 animals : 1x Impala, 2x Blesbuck, 2X Warthog (+1 baboon, +1 jackal free- present)
 2X1 hunt
Plains Game Package:
 7 hunting days
 1 hunter
3 trophy species: Wildebeet, Blesbuck, Impala
 1x night hunt for Jackal
 2×1 hunt
 All inclusive
Hunt with us in South Africa
If you are interested in our
Hunting packages for South Africa,
please get in touch with us,
so we can send you a personalized offer!