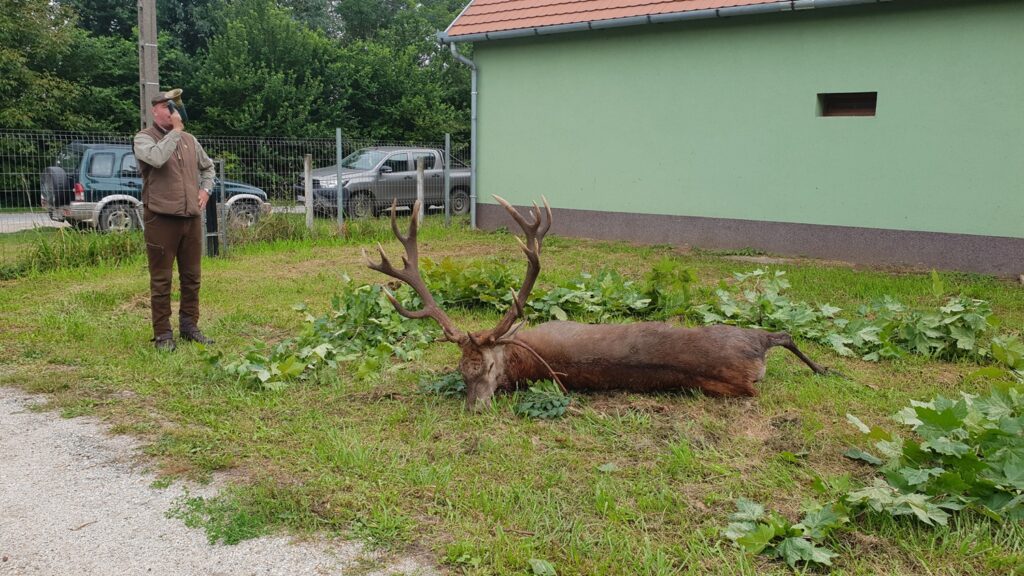 Dear Ursula and Laszlo,
I've only ever done two reviews and they were for exceptional service so that should tell you something about how happy I was with the whole experience of planning, booking and hunting Red Stag in Sumeg Hungary! Albert at Passion and Prey connected me with Tierra Caza Hunting and Ursula. The combination of Ursula and Albert was outstanding. Ursula was very responsive and helpful and was there for us throughout the whole trip and after! Ursula was at our hotel when we arrived in Sumeg and she was there when we left. She also picked us up at our hotel in Budapest several days after our hunting trip in Sumeg ended and drove us approximately one hour away to a hunting and taxidermy shop where we picked out the plaques for the two gold medal stags I harvested. While were were at the shop we also bought a stag and fallow deer antlered chandelier for our barn at a very reasonable price. Ursula took care of all the paperwork (shipping, packaging and agriculture) to have the trophies and chandelier shipped to us.
In regards to the hunting, the quality and quantity of the game in Hungary can only come from centuries of wild game management. These are no farm raised NZ stags. These are majestic beasts that date back to a day and age where hunting was only for royalty and nobility.
The hunting was high seat or spot and stalk. I did a lot of spotting and stalking and covered a lot of ground; in the end, I took two gold medal stags. One world-class stag with a trophy weight of 14.05 kilograms was the largest ever killed in the region!
My wife traveled with me so Albert worked with Ursula to book us at a nice resort & spa at the base of a medieval castle. My wife was able to experience several wellness treatments (at very reasonable prices compared to the U.S.) while I was hunting, and we were still able to sightsee in the middle of the day and usually have several meals together as well.
The guide/professional hunter Gabor (Gabriel) was exceptional with well over a decade of hunting at the same large concession. Somehow he was able to consistently place us in an area where the stags were roaring and we would take off chasing from there. On several occasions we stalked within feet of large red stags rubbing & shaking impossibly large trees. On those occasions Gabor said they were too young even though they had huge antlers. I hunted five mornings and five evenings. I saw dozens and dozens of red stags, wild boar and roe deer.
After the evening hunt where I harvested the 14.05 kilogram stag the president of the hunting association opened up his restaurant at 10:30 pm just for my wife and I and hosted us to an amazing Hungarian meal and drinks. Then the next morning there was a traditional hunting ceremony to honor the animal and the hunter. The ceremony began with horn blowing, the presentation of the animal wreathed with plants and ended with the gifting of a branch to commemorate the first red stag I took. Two days later, on the very last hunt of the trip, I harvested a second red stag trophy that weighed weighed almost 10 kilograms.
Ursula and Albert also arranged for Esther, a tour guide and interpreter. Her English was exceptional and helped me get in a rhythm of communication with Gabor. Esther was also very accommodating and and helped my wife book spa treatments and plan our post hunting sight seeing excursions in Budapest. All and all I can't say enough good things about our experiences on this perfect vacation! Thank you Tierra Caza Hunting and Passion and Prey!!
Clark and Joanna
Offical measure: 14,04 kg – 10 years old – 236,53 C.I.C,